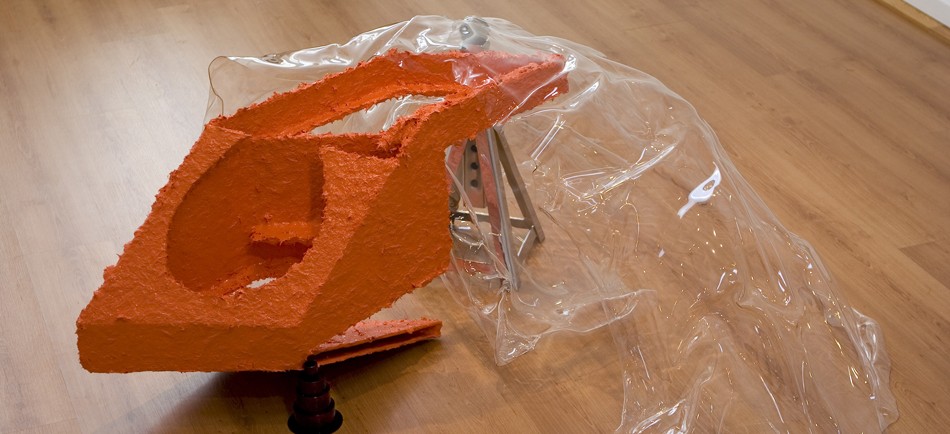 [           ]
Jen Hutton & Daniel Laskarin
12 September to 7 November, 2009
Opening 11 September 8:00 PM as part of SWARM 2009
[        ] is an exhibition that features sculptures by Toronto-based artist Jen Hutton and Victoria-based artist Daniel Laskarin. These two artists from different generations employ varied strategies of material translation within their works. [        ] is both enclosure and separation: a title that reflects these divergent practices.
Laskarin's sculptures are inspired by diagrams of 19th century farm equipment. However, made from contemporary commercial objects, they operate within their own internal language. Despite their utilitarian referent, these objects only remotely resemble machinery and appear to be on the verge of collapse. For Laskarin, confronting viewers with things in a state of uncertainty makes the act of viewing itself creative.
One of Hutton's works, a giant plywood structure in the shape of the letter C, operates as both a linguistic symbol and a literalisation of the viewers' role in interacting with the work. The ends of the C are open, inviting the gallery visitors to peer into a periscope-like mirror system that activates the object.
Hutton and Laskarin translate the immaterial aspects of language—from both linguistic and diagrammatic sources—into sculptural forms. They negotiate the relationships between objects as signifiers of the known world, and their forms as abstracted within the ostensibly autonomous sphere of the sculptural object. The space between the brackets here could be anything; it is as mutable as the affinities between the two artists' works.
The exhibition will be accompanied by Access Gallery's fourth Parallel Guidebook.
Also titled [        ], the publication will contain additional artworks by both Laskarin and Hutton.
Jesse Birch and Liz Park
Director/Curators
Access Gallery
206 Carrall St
Vancouver, BC
V6B 2J1
604.689.2907
www.accessgallery.ca